Avatares de la palabra "áurea"
Resumen
Hagamos referencia, en primer lugar, a las perspectivas que nos ofrecen, por un lado, la historia de las literaturas en lengua española, y, por otro lado, la ciencia de las mismas literaturas.
Citas
Mitchell, Peta (2008), Cartographic Strategies of Postmodernity. The figure of the Map in Contemporary Theory and Fiction, New York, Routledge.
Moretti, Franco (2000), "Conjectures on World Literature", New Left Review, 1: 54-68.
Moretti, Franco (2005), Graphs, Maps, Trees. Abstract Models for Literary History, London, Verso.
Tally, Robert T. (2011), Geocritical Explorations. Space, Place, and Mapping in Literary and Cultural Studies, New York, Palgrave.
Warf, Barney; Arias, Santa (2008), The spatial turn: Interdisciplinary perspectives, London, Routledge.
Westphal, Bertrand (2007), La géocritique. Réel, fiction, espace, Paris, Minuit.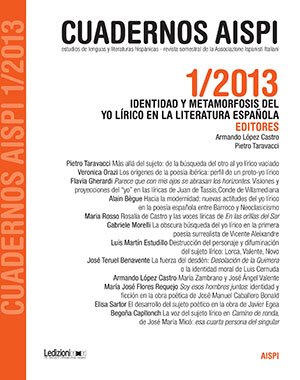 Descargas
Licencia
La revista está publicada bajo la licencia Creative Commons.