Migraciones mediáticas: la translocación del español en televisoras hispanas de Estados Unidos
Resumen
Este artículo enfocará el contacto, en estaciones de televisión hispanas en EE UU, entre variedades del español, y de estas variedades con el inglés, produciendo encuentros que arrojan luz sobre la dimensión transnacional de la lengua. Además, se cuestionará la concepción de un español neutro en redes como Univisión y Cisneros Media. El concepto de español neutro se conecta con estrategias de expansión del mercado televisivo.
Citas
América TeVé (2015), "Susana Pérez discriminada en medios hispanos", América TeVé Miami [16/07/ 2015] https://www.youtube.com/watch?v=eMnVwKuLono
Appadurai, Arjun (1996), Modernity at Large. Cultural Dimensions of Globalization, Minneapolis, University of Minnesota Press.
Aranda, Elizabeth M.; Hughes, Sallie; Sabogal, Elena (2014), Making a Life in Multiethnic Miami. Immigration and the Rise of a Global City, Boulder, Colorado, Lynne Rienner Publishers.
Artman, Hannah (2015), "Th e Mexicanization of Walter Cronkite Spanish", University of Miami [04/06/ 2015] https://www.youtube.com/watch?v=JjV4z1EsoO4
Bhabha, Homi (1994), Th e Location of Culture, New York, Routledge.
Bourdieu, Pierre (2000), "Th e Production and Reproduction of Legitimate Language", The Routledge Language and Cultural Th eory Reader, eds. Lucy Burke, Tony Crowley, Alan Girvin. London, Routledge: 467-77.
Caravedo, Rocío (2010), "La dimensión subjetiva en el contacto lingüístico", Lengua y migración, 2: 9-25.
—, (2012), "Las ciudades como espacios mentales y lingüísticos. Refl exiones sobre la variación diatópica del español", Orillas: Revista anual de estudios hispánicos, 1: 1-17.
Castells, Manuel (2004), Th e Power of Identity: Th e Information Age: Economy, Society, and Culture, Malden, Massachusetts, Blackwell.
Cisneros Media (2016), "First-quality programming", http://www.cisneros.com/businesses/cisneros-media
Dávila, Arlene (2001), Latinos Inc.: Marketing and the Making of a People, Berkeley, University of California Press.
Dávila, Arlene; Rivero, Yeidy, eds. (2014), Contemporary Latina/o Media: Production, Circulation, Politics, New York, NYU Press.
Del Valle, José (2007), "La lengua, patria común: La hispanofonía y el nacionalismo panhispánico", La lengua, ¿patria común? Ideas e ideologías del español, ed. José Del Valle. Frankfurt am Main / Madrid, Vervuert / Iberoamericana: 31-56.
—, (2011), "Transnational language: Beyond nation and empire?", Sociolinguistic Studies, 5: 387-97.
Duany, Jorge (2011), Blurred Borders: Transnational Migration between the Hispanic Caribbean and the United States, Chapel Hill, University of North Carolina Press.
Duchêne, Alexandre; Heller, Monica, eds. (2012), Language in Late Capitalism: Pride and Profi t, London, Routledge.
El Halli Obeid, Leticia, (2012), "La normalidad de Frankenstein: el español neutro y el doblaje", Nexos [01/08/2012] http://www.nexos.com.mx/?p=1493
Fridmann, Mandy (2015), "UniMás cancela los shows de Zuleyka Rivera, Roxanna Castellanos y Enrique Santos", Huff Post Voces [04/11/2015] http://voces.huffi ngtonpost.com/2015/11/04/unimas-cancela-shows-zuleyka-rivera-enrique-santos-_n_8474534.html
García Canclini, Néstor (1995), Confl ictos Multiculturales de la Globalización, México D.F., Grijalbo.
Georgiou, Myria (2004), "Consuming Ethnic Media, Constructing Ethnic identities, Shaping Communities: the Case Study of Greek Cypriots in London", Race/Gender/Media: Considering Diversity Across Audiences, Content, and Producers, ed. Rebecca Ann Lind. Boston, Allyn and Bacon: 52-60.
Georgiou, Myria (2006), Diaspora, Identity and the Media: Diasporic Transnationalism and Mediated Spatialities, Cresskill, New Jersey, Hampton Press.
Glick Schiller, Nina; Green Basch, Linda; Szanton-Blanc, Cristina, eds. (1992), Towards a Transnational Perspective on Migration: Race, Class, Ethnicity and Nationalism Reconsidered, New York, Th e New York Academy of Sciences.
Irvine, Judith; Gal, Susan (2000), "Language Ideology and Linguistic Diff erentiation", Regimes of Language: Ideologies, Polities, and Identities, ed. Paul Kroskrity. Santa Fe, New Mexico, School of American Research Press: 35-84.
Jarvinen, Lisa (2012), Th e Rise of Spanish-Language Filmmaking: Out from Hollywood's Shadow, 1929-1939, New Brunswick, New Jersey, Rutgers University Press.
Labanyi, Jo; Pavlović, Tatjana, eds. (2013), A Companion to Spanish Cinema, Malden / Oxford, Wiley-Blackwell.
Laguna, Albert Sergio (2010), "Aquí está Álvarez Guedes: Cuban Choteo and the Politics of Play", Latino Studies, 8: 509-31.
Levitt, Peggy; Glick Schiller, Nina (2004), "Conceptualizing Simultaneity: A Transnational Social Field Perspective on Society", International Migration Review, 38: 1002-39.
Lippi-Green, Rosina (2011), English with an Accent: Language, Ideology and Discrimination in the United States, London, Routledge.
Lynch, Andrew (2009), "Expression of Cultural Standing in Miami: Cuban Spanish Discourse about Fidel Castro and Cuba", Revista Internacional de Lingüística Iberoamericana, 14: 21-48.
—, (2013), "Observaciones sobre comunidad y (dis)continuidad en el estudio sociolingüístico del español en Estados Unidos", El español en los Estados Unidos: E pluribus unum? Enfoques multidisciplinarios, eds. Domnita Dumitrescu; Gerardo Piña-Rosales. Nueva York, Academia Norteamericana de la Lengua Española: 67-83.
Lynch, Andrew; Potowski, Kim (2014), "La valoración del habla bilingüe en Estados Unidos: Fundamentos sociolingüísticos y pedagógicos en Hablando bien se entiende la gente", Hispania, 97: 32-46.
Mañach, Jorge (2014) [1928], Indagación del choteo, Barcelona, Linkgua.
Melia, Michael (2005), "Cadena de TV Telemundo apunta a un español neutral en EE UU", MYPlainview.com [23/02/2005] http:// www.myplainview.com/article_295f4337-25e3-57b8-b30b-3f85d61f9a90.html
Mora, Cristina (2014), Making Hispanics: How Activists, Bureaucrats, and Media Constructed a New American, Chicago, University of Chicago Press.
Moreno Fernández, Francisco (2014), "Spanish Language and Migrations", The Routledge Handbook of Hispanic Applied Linguistics, ed. Manel Lacorte. London, Routledge: 624-38.
Naficy, Hamid (1993), Th e Making of Exile Cultures: Iranian Television in Los Angeles, Minneapolis, University of Minnesota Press.
Oliete-Aldea, Elena; Oria, Beatriz; Tarancón, Juan, eds. (2016), Global Genres, Local Films: Th e Transnational Dimension of Spanish Cinema, London, Bloomsbury Academic.
O'Reilly Herrera, Andrea, ed. (2007), Cuba: Idea of a Nation Displaced, Albany, State University of New York Press.
Orozco Gómez, Guillermo; Vassallo de Lopes, Maria Immacolata, eds. (2012), Transnationalization of Television Fiction in Ibero-American Countries, OBITEL 2012, Porto Alegre, Sulina.
Portes, Alejandro; Bach, Robert L. (1985), Latin Journey: Cuban and Mexican Immigrants in the United States, Berkeley, University of California Press.
Portes, Alejandro; Puhrmann, Aaron (2015), "A Bifurcated Enclave: Th e Economic Evolution of the Cuban and Cuban American Population of Metropolitan Miami", Cuban Studies, 43: 40-63.
Prentice, Chris; Devadas, Vijay; Johnson, Henry (2010), Cultural Transformations: Perspectives on Translocation in a Global Age, Amsterdam, Rodopi.
Santos Febre, Mayra (1997), "Salsa as Translocation", Everynight life: Culture and Dance in Latin/o America, eds. Celeste Fraser Delgado; José Esteben Muñoz. Durham, North Carolina, Duke University Press: 175-88.
Smith, Michael Peter; Guarnizo, Luis Eduardo, eds. (1998), Transnationalism from Below, New Brunswick / London, Transaction Publishers.
Shaw, Deborah (2013), "Deconstructing and Reconstructing 'Transnational Cinema'", Contemporary Hispanic Cinema: Interrogating the Transnational in Spanish and Latin American Film, ed. Stephanie Dennison. London, Tamesis: 47-66.
Spivak, Gayatri (1987), "Subaltern Studies: Deconstructing Historiography", In other Worlds: Essays in Cultural Politics, New York, Methuen, 215-19.
Valdés, Alexis (2007), "Soy Dios", El Club de la Comedia de La Sexta 2 https://www.youtube.com/watch?v=tV8r1hgs9Sg
—, (2010), "Cristinito conoce a Cristina", Mega TV Miami www.youtube.com/watch?v=PcGHgJFEjtQ
—, (2010), "El fronterizo", Mega TV Miami https://www.youtube.com/watch?v=SQCg7ywMjIM
Van Liew, Maria (2010), "New Modernity, Transnational Women, and Spanish Cinema", Comparative Literature and Culture,12 http://dx.doi.org/10.7771/1481-4374.1599
Werbner, Pnina (2005), "The Translocation of Culture: 'Community Cohesion' and the Force of Multiculturalism in History", Sociological Review, 53: 745-68.
Woolard, Kathryn (2007), "La autoridad lingüística y las ideologías de la autenticidad y el anonimato", La lengua, ¿patria común?, ed. José Del Valle. Frankfurt am Main / Madrid, Vervuert / Iberoamericana: 129-42.
—, (2008), "Language and Identity Choice in Catalonia: Th e Interplay of Contrasting Ideologies of Linguistic Authority", Lengua, nación e identidad. La regulación del plurilingüismo en España y América Latina, eds. Kirsten Süselbeck; Ulrike Mühlschlegel; Peter Masson. Frankfurt am Main / Madrid, Vervuert / Iberoamericana: 303-23.
Yúdice, George (2003), The Expedience of Culture, Durham and London, Duke University Press.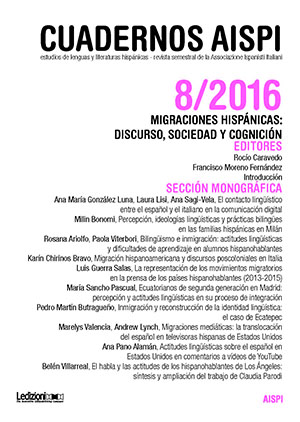 Descargas
Sección
Sección monográfica
Licencia
La revista está publicada bajo la licencia Creative Commons.