Sobre la reformulación y sus marcadores
Resumen
En este artículo se exploran las relaciones de los marcadores de reformulación explicativa (es decir, o sea, esto es, etc.) con los de otras categorías con los que de alguna manera comparten funciones, en particular la conclusión y la corrección; a la par, se profundiza en el fenómeno discursivo de la reformulación. Para ello, se hace necesario analizar el papel inferencial de estos marcadores en la interpretación del discurso, además de considerar algunos otros aspectos clave como sus usos polifónicos.
Citas
Aikhenvald, Alexandra Y. (2004), Evidentiality, Oxford, Oxford University Press.
Álvarez Menéndez, Alfredo I. (1999), "Las construcciones consecutivas", Gramática descriptiva de la lengua española, coords. Ignacio Bosque; Violeta Demonte. Madrid, Espasa-Calpe: 3739-804.
Blakemore, Diane (1996), "Are apposition markers discourse markers?", Journal of Linguistics, 32/2: 325-47.
—, (1997), "On non-truth conditional meaning", Linguistische Berichte, Sonderheft 8: 92-102.
—, (2002), Relevance and Linguistic Meaning: Th e Semantics and Pragmatics of Discourse Markers, Cambridge, Cambridge University Press.
Charolles, Michel; Coltier, Danielle (1986), "Le contrôle de la compréhension dans une activité rédactionnelle: Éléments pour l'analyse des reformulations paraphrastiques", Pratiques, 49: 51-66.
Clift, Rebecca (2006), "Indexing Stance: Reported Speech as an Interactional Evidential", Journal of Sociolinguistics, 10/5: 569-95.
Cuenca, M. Josep; Bach, Carme (2007), "Contrasting the form and use of reformulation markers", Discourse Studies, 9/2: 149-75.
Ducrot, Oswald (1984), Le dire et le dit, Paris, Minuit.
Figueras, Carolina (2001), Pragmática de la puntuación, Barcelona, Octaedro.
Fløttum, Kjersti (1994), "À propos de c'est-à-dire et ses correspondants norvégiens", Cahiers de Linguistique Française, 15: 109-30.
Garcés Gómez, M. Pilar (2008), La organización del discurso: marcadores de ordenación y de reformulación, Vervuert, Iberoamericana.
—, (2011), "Procesos de reformulación en el discurso oral: corrección y rectifi cación", Español Actual, 96: 89-106.
—, (en prensa), "La reformulación discursiva y los procesos de recapitulación y conclusión: a propósito de los marcadores en fi n y total", Romanische Forschungen, 129.
Gülich, Elisabeth; Kotschi, Thomas (1995), "Discourse production in oral communication", Aspects of Oral Communication, ed. Uta M. Quasthoff . Berlin/ New York, Walter de Gruyter, 30-66.
Hyland, Ken (2007), "Applying a gloss: Exemplifying and reformulating in academic discourse", Applied Linguistics, 28/2: 266-85.
Li, Charles N. (1986), "Direct and Indirect Speech: a Functional Study", Direct and Indirect Speech, ed. Florian Coulmas. Berlin, Mouton de Gruyter: 29-45.
Maldonado, Concepción (1999), "Discurso directo y discurso indirecto", Gramática descriptiva de la lengua española, coords. Ignacio Bosque; Violeta Demonte. Madrid, Espasa-Calpe: 3549-95.
Murat, Michel; Cartier-Bresson, Bernard (1987), "C'est-à-dire ou la reprise interpretative", Langue Française, 73/1: 5-15.
Murillo Ornat, Silvia (2004), "A relevance reassessment of reformulation markers", Journal of Pragmatics, 36: 2059-68.
—, (2007), "A Contribution to the Pragmalinguistic Contrastive Study of Explicatory Reformulative Discourse Markers in Contemporary Journalistic Written English and Spanish", tesis doctoral, Universidad de Zaragoza.
—, (2009), "Los marcadores de reformulación explicativa en español y en inglés: estudio contrastivo de 'o sea' y sus traducciones 'that is (to say)' e 'in other words'", La reformulación del discurso en español en comparación con otras lenguas, ed. María Pilar Garcés Gómez. Madrid: Universidad Carlos III / BOE: 137-61.
—, (2010), "Los marcadores del discurso y su semántica", La investigación sobre marcadores del discurso del español, hoy, eds. Oscar Loureda; Esperanza Acín. Madrid, Arco/Libros: 151-90.
—, (2012), "The use of reformulation markers in Business Management research articles: An intercultural analysis", International Journal of Corpus Linguistics, 17/1: 62-88.
—, (2015), "Sobre el uso de que con los marcadores de reformulación explicativa en español escrito", Marqueurs du discours dans le langues romanes: une approche contrastive, eds. Margarita Borreguero; Sonia Gómez-Jordana. Limoges, Lambert-Lucas: 168-79.
—, (2016), "Reformulation markers and polyphony: a contrastive English-Spanish analysis", Languages in Contrast, 16/1: 1-30.
Pons Bordería, Salvador (2008), "Do discourse markers exist? On the treatment of discourse markers in Relevance Th eory", Journal of Pragmatics, 40: 1411-34.
—, (2013), "Un solo tipo de reformulación", Cuadernos AISPI, 2: 151-70.
—, (2014a), "Paths of grammaticalization in Spanish o sea", Discourse and Pragmatic Markers from Latin to the Romance Languages, eds. Chiara Ghezzi; Piera Molinelli. Oxford, Oxford University Press: 108-35.
—, (2014b), "El siglo XX como diacronía: intuición y comprobación en el caso de o sea", RILCE, 30/3: 985-1016.
Pons Bordería, Salvador; Macàrio Lopes, Ana C. (2014), "Ou seja vs. o sea: Formal identity and functional diversity", Revista de Estudios Linguísticos da Universidade do Porto, 9: 103-28.
Portolés, José (1996), "Sobre la organización interna de las intervenciones", Pragmática y gramática del español hablado, eds. Antonio Briz; José Gómez; Mª José Martínez; Grupo Val.Es.Co. Valencia, Universitat de València: 203-14.
—, (2001) [1998], Marcadores del discurso, 2ª ed., Barcelona, Ariel.
—, (2004), Pragmática para hispanistas, Madrid, Síntesis.
Reyes, Graciela (2002), Metapragmática: Lenguaje sobre lenguaje, fi cciones y fi guras, Valladolid, Universidad de Valladolid.
Rodríguez Ramalle, Teresa M. (2014), "Una nueva refl exión en torno a los marcadores de reformulación con que", Revista de Investigación Lingüística, 17/1: 119-45.
—, (2015), "Evidentiality and illative markers in Spanish", Journal of Pragmatics, 85: 200-11.
Schegloff, Emanuel A.; Jefferson, Gail; Sacks, Harvey (1977), "Th e preference for self-correction in the organization of repair in conversation", Language, 53/2: 361-82.
Traugott, Elisabeth C. (2015), "What can a constructional perspective on language contribute to an understanding of 'periphery' and pragmatic markers that occur there?", conferencia presentada en el IV Coloquio Internacional "Marcadores del discurso en las lenguas románicas", Universität Heidelberg (Iberoamerika-Zentrum).
Willet, Thomas L. (1988), "A Cross-linguistic Survey of the Grammaticalization of Evidentiality", Studies in Language, 12/1: 51-97.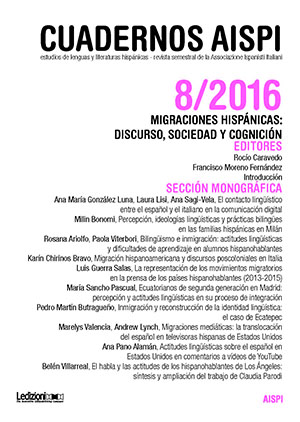 Descargas
Licencia
La revista está publicada bajo la licencia Creative Commons.