Introducción
Citas
Agorni, Mirella (ed.) (2005), La Traduzione. Teorie e metodologie a confronto, Milano, Led.
Bassnett, Susan (1997), Constructing Cultures: Essays on Literary Translation, Clevedon, Philadelphia, Multilingual Matters.
Berman, Antoine (1984), L'épreuve de l'étranger. Culture et traduction dans l'Allemagne romantique, Paris, Gallimard.
Bhabha, Homi K. (1994), The Location of Culture, London / New York, Routledge.(https://archive.org/stream/TheLocationOfCultureBHABHA/the+location+of+culture+BHABHA_djvu.txt) (12/11/2018)
Borello, Enrico (1999), Teorie della Traduzione. Glottodidattica e scienze della comunicazione, Urbino, Quattroventi.
Brand, Gerd, The Central Texts of Wittgenstein, Oxford, Basil Blackwell.
Carbonell i Cortés, Ovidi (1997), Traducir al otro: traducción, exotismo, poscolonialismo, Cuenca, Ediciones de la Universidad de Castilla-La Mancha.
Even-Zohar, Itamar (1979), "Polysystem Theory", Poetics Today, 1/1-2: 287-310.
Fernández Silva, Sabela (2013), "Variación denominativa y punto de vista", Debate terminológico, 9: 11-37.
Genette, Gérard (1972), Figures III, Paris, Editions du Seuil.
Gutiérrez Ordoñez, Salvador (dir.) (2011), Estudio de campo: lenguaje de las normas, Madrid, Ministerio de Justicia.
Gutiérrez, Pedro Juan (2003), Sabor a mí, Barcelona, Anagrama.
Hatim, Basil (2001), Teaching and Researching Translation, Harlow, England / New York, Longman.
Hermans, Theo (1985), The Manipulation of Literature: Studies in Literary Translation, London, Croom Helm.
Hurtado Albir, Amparo (2001), Traducción y Traductología: Introducción a la traductología, Madrid, Cátedra.
Ladmiral, Jean-René (1979), Traduire: théorèmes pour la traduction, Paris, Payot.
––, (2009), Della Traduzione. Dall'estetica all'epistemologia, Modena, Mucchi Editore.
Lefevere, André; Bassnett, Susan (1990), Translation, History, and Culture, London / New York, Pinter Publishers.
Lefevere, André (1998 [1992]), Traduzione e riscrittura. La manipolazione della fama letteraria, Torino, Utet.
Mayoral Asensio, Roberto (2014), "Lenguajes de especialidad y traducción especializada.
La traducción jurídica", Manual de documentación y terminología para la traducción especializada, eds. Consuelo Gonzalo García; Valentín García Yebra. Madrid, Arco/Libros: 49-71.
Montolío Durán, Estrella (dir.) (2011), Estudio de campo: lenguaje escrito, Madrid, Ministerio de Justicia.
Morreale, Margherita (1959), Castiglione y Boscán, el ideal del cortesano en el Renacimiento español. Estudio léxico-semántico, Madrid, Aguirre Torre.
Moya, Virgilio (2004), La selva de la traducción. Teorías traductológicas contemporáneas, Madrid, Cátedra.
Munday, Jeremy (2001), Introducing Translation Studies: Theories and Applications, London, Routledge.
––, (2008), "The Relations of Style and Ideology in Translation: A case study of Harriet de Onís", (2008) Actas del III Congreso Internacional de la Asociación Ibérica de Estudios de Traducción e Interpretación. La traducción del futuro: Mediación lingüístca y cultural en el siglo XXI, Barcelona 22-24 de marzo de 2007, vol. I, eds. Luis Pegenaute; Janet Ann De Cesaris; Mercedes Tricás Preckler; Elisenda Bernal. Barcelona, PPU: 57-68.
Paz, Octavio (1981), Traducción: literatura y literalidad, Barcelona, Tusquets.
Pym, Anthony (2016 [2012]), Teorías contemporáneas de la traducción, Tarragona, Intercultural Studies Group.
Sapir, Edward (1912), "Language and Environment", American Anthropologist, 14/2: 226-42.
Schleiermacher, Friedrich (1813), Über die verschiedenen Methoden des Übersetzens, Berlin, "Königlichen Akademie Der Wissenschaften" (https://www.scribd.com/document/51335587/SCHLEIERMACHER-Uber-Die-verschiedenen-Methoden-des-Ubersezens) (05/12/2018)
Selva Pereira, Tatiana Antonia (2010), "Algunos apuntes sobre la traducción cultural", Transfer, 5: 1-11.
Snell-Hornby, Mary (1988), Translation Studies. An Integrated Approach, Amsterdam / Philadelphia, Benjamins.
––, (2006), The Turns of Translation Studies. New paradigms or shifting viewpoints?, Amsterdam / Philadelphia, Benjamins.
Suárez de La Torre, Mercedes (2004), "La variación denominativa explícita: propuesta de tipología de casos", Brasil Organon, 18: 187-211.
Temmerman, Rita (2000), Towards New Ways of Terminology Description: The Sociocognitive Approach, Amsterdam / Philadelphia, Benjamins.
Torop, Peter (2000 [1995]), La traduzione totale, Modena, Guaraldi-Logos.
Toury, Gideon (1980), In search of a theory of translation, Tel Aviv, Tel Aviv University, Porter Institute for Poetics and Semiotics.
––, (1995), Descriptive Translation Studies and Beyond, Amsterdam / Philadelphia, Benjamins.
Ulrych, Margherita, introduzione a Lefevere, André (1998), Traduzione e riscrittura. La manipolazione della fama letteraria, Torino, UTET: VII-XV.
Ulrych, Margherita; Bollettieri Bosinelli, Rosa Maria (1999), "The State of the Art in Translation Studies. An Overview", Translation Studies Rivisited, eds. Susan
Bassnett; Rosa Maria Bollettieri Bosinelli; Margherita Ulrych. Textus, 12/2: 219-41.
Venuti, Lawrence (1995), The Translator's Invisibility: A History of Translation, London, Routledge.
––, (1998), The Scandals of Translation: Towards an Ethics of Difference, London / N.Y., Routledge.
Whorf, Benjamin L. (1956), Language, Thought, and Reality, Cambridge, Massachusetts, The M.I.T. Press.
Wittgenstein, Ludwig (1958), Philosophical Investigations, Oxford, Blackwell.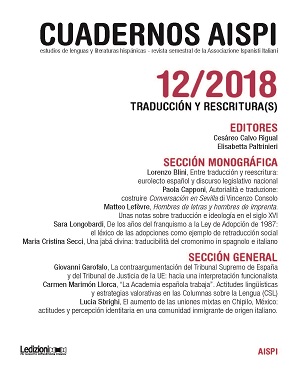 Descargas
Sección
Sección monográfica
Licencia
La revista está publicada bajo la licencia Creative Commons.