Transformaciones textuales en la reescritura cinematográfica de obras literarias: el caso de Zama
Resumen
A partir del análisis de la novela Zama (Antonio di Benedetto 1957) y de su adaptación al cine (Lucrecia Martel 2017), esta investigación aborda algunas de las trasformaciones textuales más recurrentes en la reescritura fílmica de obras literarias. En términos generales, la reescritura puede implicar tres operaciones distintas: la omisión de un elemento en el texto fílmico, su incorporación y la invención de un elemento original. Esta investigación se detendrá en particular en las formulaciones textuales que implica la segunda de esas operaciones. Se pretende iniciar así una línea de estudio del discurso cinematográfico que hasta ahora ha merecido escasa atención de la lingüística y, específicamente, de la lingüística del español.
Descargas
Los datos de descargas todavía no están disponibles.
Citas
Bednarek, Monika (2015), "An overview of the linguistics of screenwriting and its interdisciplinary connections, with special focus on dialogue in episodic television", Journal of Screenwriting, 6/2: 221-38.
Bernini, Emilio (2017), "El hundimiento", Kilometro 111 [12/09/2021] <http://kilometro111cine.com.ar/el-hundimiento/>
Bianchi, Francesca; Gesuato, Sara (2020), "Pride and Prejudice on the Page and on the Screen: Literary Narrative, Literary Dialogue and Film Dialogue", Nordic Journal of English Studies, 19(2): 166-98.
Chatman, Seymour (1978), Story and Discourse: Narrative Structure in Fiction and Film, Ithaca (NY), Cornell University Press.
— (1990), Coming to Terms: The Rhetoric of Narrative in Fiction and Film, Ithaca (NY), Cornell University Press.
Cutchins, Dennis; Raw, Laurence; Welsh, James (2010), "Introduction", Dennis Cutchins; Laurence Raw; James Welsh (eds.), The Pedagogy of Adaptation. Lanham, The Scarecrow Press.
Dieleke, Edgardo; Fernández Bravo, Álvaro (2018), "Zama: heterocronía, voyeurismo y mundos posibles", laFuga, 21 [12/09/2021] <https://lafuga.cl/zama-heterocronia-voyeurismo-y-mundos-posibles/880>
Dillon, Alfredo (2019), "Antonio Di Benedetto por Lucrecia Martel: la adaptación de Zama", Badebec, 8(16): 104-28.
Gómez Tarín, Francisco Javier (2007), "Narrativa cinematográfica y enseñanza del cine", Comunicar: Revista científica iberoamericana de comunicación y educación, 29: 75-80.
Hutcheon, Linda (2013), A Theory of Adaptation, New York, Routledge.
Ibaceta, Maria Celina (2019), "El pasado como máscara: una comparación entre Zama de Antonio Di Benedetto y Zama de Lucrecia Martel", Rizoma, 7(1): 102-21.
Kemlo, Justine (2008), "Different Voices? Film and Text or Film as Text: Considering the Process of Film Adaptation from the Perspective of Discourse", MHRA Working Papers in the Humanities, 3: 13-24.
Leitch, Thomas (2003), "Twelve Fallacies in Contemporary Adaptation Theory", Criticism, 45(2): 149-71.
—, ed. (2017), The Oxford Handbook of Adaptation Studies, Oxford, Oxford University Press.
Macdonald, Ian (2013), Screenwriting Poetics and the Screen Idea, Basingstoke/New York, Palgrave Macmillan.
Mancilla, Juan (2013), "Acercamiento al problema de la adaptación cinematográfica de textos literarios: La transposición", Logos. Revista de Lingüística, Filosofía y Literatura, 23(1): 32- 44.
Marchini, Giovanni; Martel, Lucrecia (2018), "It's Not Literary Adaptation… It's Literary Infection", Cinéaste, 43(3): 45-46.
McFarlane, Brian (1996), Novel to Film: An Introduction to the Theory of Adaptation, Oxford, Clarendon Press.
McQueen, Sean (2012), "Adapting to language Anthony Burgess's and Stanley Kubrick's A Clockwork Orange", Science Fiction Film and Television, 5(2): 221-41.
Paget, Derek (1999), "Speaking out: The transformation of Trainspotting", Deborah Cartmell; Imelda Whelehan (eds.). Adaptations: From Text to Screen, Screen to Text, London, Routledge: 128-40.
Paz Gago, José María (2004), "Propuestas para un replanteamiento metodológico en el estudio de las relaciones de literatura y cine: el método comparativo semiótico-textual", Signa, 13: 199-232.
Pérez Bowie, José Antonio (ed.) (2010), Reescrituras fílmicas: nuevos territorios de la adaptación, Salamanca, Universidad de Salamanca.
Rauma, Sara (2004), Cinematic Dialogue, Literary Dialogue, and the Art of Adaptation: Dialogue Metamorphosis in the Film Adaptation of The Green Mile. Tesis doctoral, Universidad de Jyväskylä.
Rifkin, Benjamin (1994), Semiotics of Narration in Film and Prose Fiction, New York,
Peter Lang.
Sherry, Jaimie (2014), "Teaching Adapting Screenwriters: Adaptation Theory through
Creative Practice", eds. Deborah Cartmell; Imelda Whelehan, Teaching Adaptations. Basingstoke, Palgrave Macmillan: 87-105.
Stam, Robert (2000), "Beyond fidelity: the dialogics of adaptation", ed. James Naremore. Film Adaptation, New Brunswick, Rutgers University Press, 54-76.
Stam, Robert (2004), Literature through Film: Realism, Magic, and the Art of Adaptation, Malden, Blackwell.
Stam, Robert; Raengo, Alessandra (eds.) (2005), Literature and Film: A Guide to the Theory and Practice of Film Adaptation, Malden, Blackwell.
Torres, Alejandro (2015), "Literary Film Adaptation for Screen Production: the Analysis of Style Adaptation in the Film Naked Lunch from a Quantitative and Descriptive Perspective", Logos: Revista de Lingüística, Filosofía y Literatura, 25(2): 154-64.
Wolf, Sergio (2001), Cine/Literatura; ritos de pasaje, Buenos Aires, Paidós.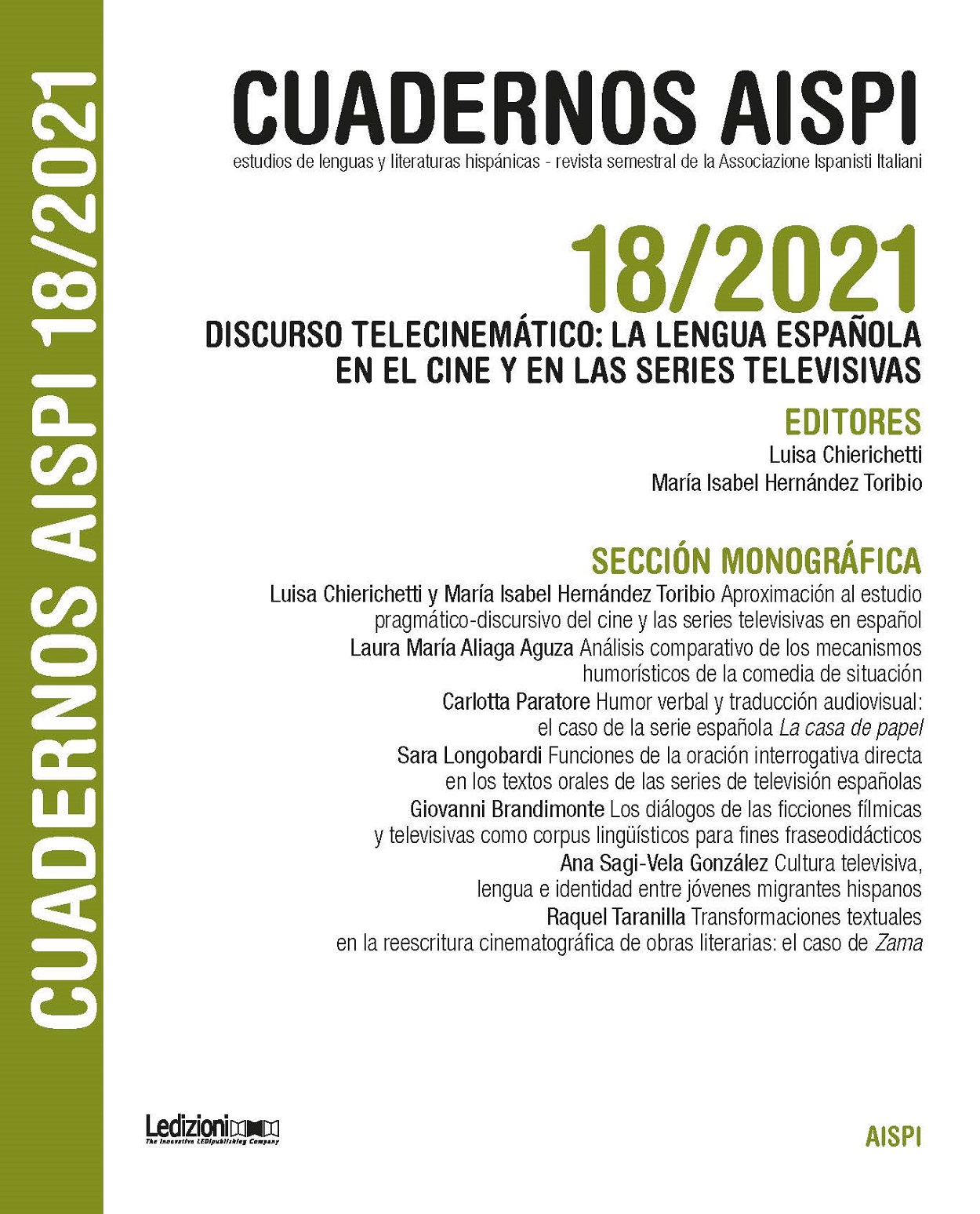 Descargas
Sección
Sección monográfica
Licencia
Esta obra está bajo una licencia internacional Creative Commons Atribución-NoComercial-SinDerivadas 4.0.
La revista está publicada bajo la licencia Creative Commons CC-BY.